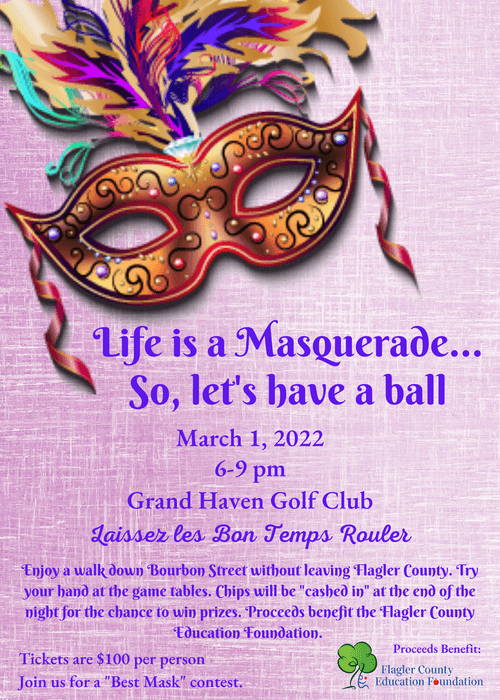 Enjoy a walk down Bourbon Street without leaving Flagler County. Try your hand at the game tables. Chips will be "cashed in" at the end of the night for the chance to win prizes. Proceeds benefit the Flagler County Education Foundation.
Tickets are $100 each to attend the event. You can also purchase a chance to win a night with Elton John with two tickets to his Farewell Yellow Brick Road Concert. See below for details.
Chance to win 2 Legends Suite Tickets
• $100 per chance ticket (suggested)
• Tickets include Dinner, Drinks & Limo Transportation.
• April 27, 2022, at Amway Center, Orlando.
• Winner will be selected at Mardi Gras on March 1, 2022, at 8:30 pm. The winner will be contacted.
• Only 200 tickets available
We also have four sponsorship levels.
Sponsorship Levels:
Mardi Gras "King & Queen"
$3,000
Sponsor Benefits:
• Sponsored logo location on Bourbon St.
• 6 Event tickets
• Prominent "presenting sponsorship" logo
recognition in online/print materials
and on event signage
Mardi Gras "Prince & Princess"
$1,500
Sponsor Benefits:
• Sponsored location on Bourbon St.
• 4 Event tickets
• Logo "supporting sponsorship"
recognition in online/print
materials and on event signage
The French Quarter
$1000
Sponsor Benefits:
• Shared sponsor logo location at event
• 2 Event tickets
• Name recognition in online/
print materials on event signage
Bourbon Street
$500
Sponsor Benefits:
• Shared sponsor location at event
• Name recognition on event signage